Sharing our experiences and knowledge
Sharing our experiences and knowledge
Customize the New-Age LMS

to Deliver Effective e-Learning Solutions
The new age LMS is a digital platform, considering that technology has set a strong niche for training workforce in diverse industry domains. The need to transfer just-in-time knowledge using latest online learning tools is transforming the nature of learning. Consequently, it is also influencing the learning platforms that are implemented to deliver customized and engaging training courses. The new-age LMS supports collaboration, boosts knowledge competency and enhances dynamic learning experience.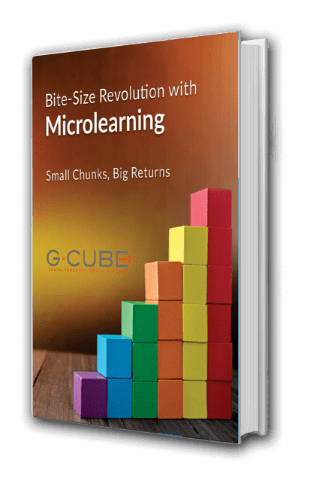 Microlearning:

Your Guide to Winning the Shift to Mobile
As technology is changing at a very fast pace, huge number of audiences are relying on microlearning to gain knowledge in real time. Microlearning is a process of delivering bite-sized content that caters to the customized need of individuals. It is adopted as an efficient e-Learning strategy to address different challenges such as evolving learning needs, rapidly accelerating technology and training that can't keep pace.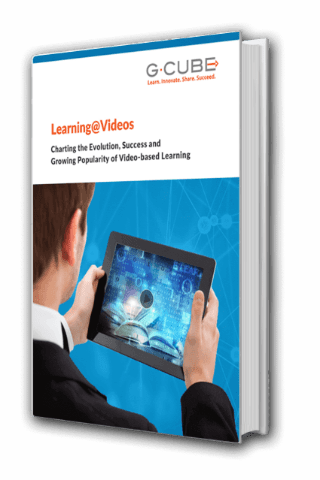 Growing Impact of Video-based Learning
Videos provide an easy, effective and cost friendly way of learning. With advancement in technology, videos have raised the ranks in terms of visual appeal and effectiveness. G-Cube has created and implemented video-based learning for a number of organizations with varying needs and different learner profiles. Putting our experiences and knowledge in a nutshell, we present '
[email protected]
' an informative e-book that will help you understand the benefits of video-based learning and create a suitable video-based learning strategy. Download here, for free!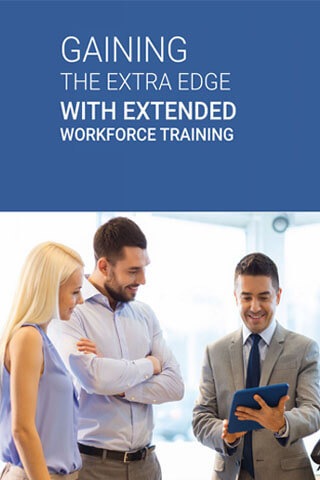 Increasing Adoption & Boosting Business Sales through Extended Enterprise LMS
The modern Learning Management System for Extended Enterprise holds the potential to reach geographically spread audiences at their point of need. Training an active community of external workforce is the reason why organizations deploy an extended learning platform to leave an incremental training impact – which directly reflects in pushing sales as well as organizational morale.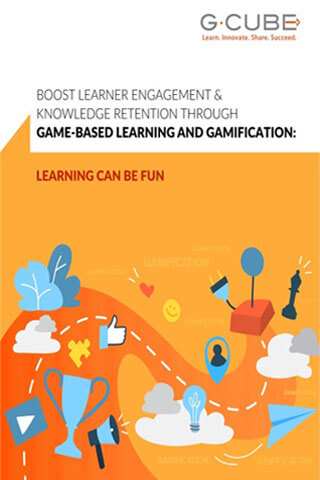 Incorporating Games with e-Learning- Engage Better & Retain More
Modern learners grow with digital technologies- with varied learning styles, preferences and customized needs. So, organizations prefer adopting best game-based and gamification practices to optimize overall training success. No matter, if you are sitting in a classroom or attending online training session, games hold the potential to evolve and provide ample ways of learning new things. Scores, leaderboards, badges and other gaming elements not only drive engagement, but also encourage learners to learn more, retain for long and perform better at the workplace.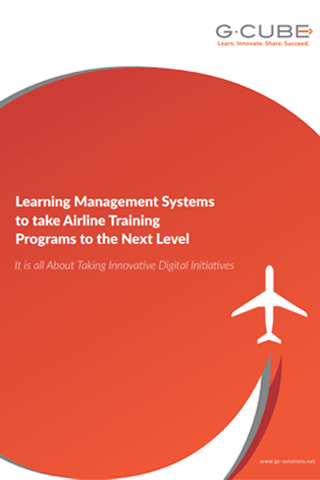 New Approach of Using LMS to Deliver Training in Aviation Sector
With digitization, the aviation industry is transforming at a very fast pace. From training on compliances to global safety measures, aviation sector ensures that their workforce gains competent knowledge and experience. With the help of stringent learning strategies and appropriate technologies, training solutions can be tailor-built for the industry to empower the employees with pertinent knowledge.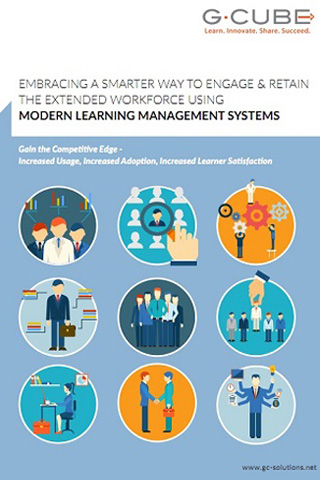 Successful LMS Implementation for Extended Workforce Training
Dealership Network, Franchisees, Affiliates, Direct selling agents, Partner Organizations and similar extended network partners are critical for the success of large scale businesses like Automobile Industry, Banking, Insurance, Telecommunication companies and so on. Thus, training the extended workforce companies can help organizations gain critical advantages including agility and access to valuable talent. Download this whitepaper to learn the whys and wherefores of extended workforce training.
Drive Your Marketing Efforts with Content Repurposing
Repurposing increases the shelf-life of content. Content repurposing is transforming available learning content from one medium to another. Printed learning content or digital content such as presentation created in PowerPoint can be converted into online courses. Alternatively, specific content objects within a course can also be reused like images, graphics or an assessment. Content Repurposing can be adopted to create blogs, e-books or even social media posts. Download this whitepaper and explore the benefits of content repurposing.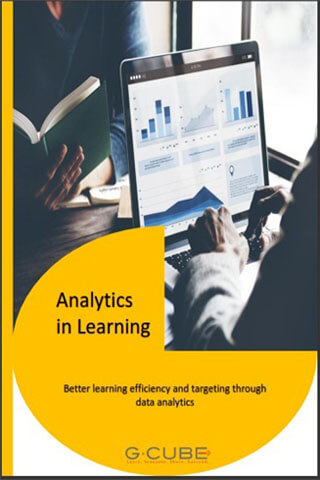 Emerging Role of Data Analytics to Enhance e-Learning Experiences
The implementation of data analytics to enhance digital learning experiences is expanding its reach to global audiences. Organizations have realized that with technology, collecting data can be valuable enough when analyzed, in alignment to the learning results. Learning Analytics focuses towards developing systems that manage content and adjust other customized services by capturing, reporting and processing on data. It can be implemented with the traditional learning strategies to reap the potential benefits of workplace training.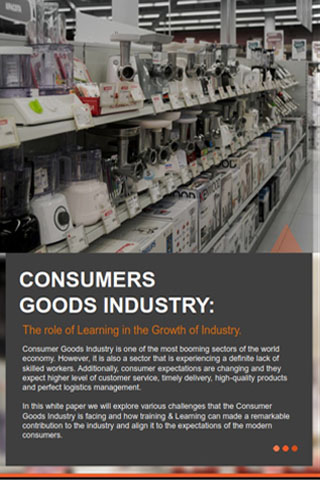 Innovating e-Learning Solutions for Consumer Goods Industry
The adoption of digital technologies for workplace training have shaped the overall growth of the Consumer Goods Industry. With prime focus on selling the right products at the right time, and in the right market, the sector is expected to grow more with time. You can download the whitepaper and discover multiple challenges that Consumer Goods Industry is facing and how efficient and innovative e-Learning solutions help to cater to the diverse needs of new-age consumers.