Banking, Financial Services and Insurance (BFSI) industry is fast growing worldwide due to the rising per capita income, introduction of new products, innovation in technology, expanding distribution, networking, and increasing customer awareness of financial products.
The customer base for this sector is highly tech-savvy, short on time and always looking around for competent and personalized services. To meet customer requirements, there is a need to establish a productive workplace which is free of human errors, security threats and brings premium banking & financial products or services. Hence, BFSI sector need to build a strong & highly skilled team of professionals to remain innovative and quickly adjust to the external changes.
Business Challenges in BFSI sector
The Global reports confirm a dismally low employee engagement of just 33% and as per survey reports, an employee turnover rate of 24% in the BFSI industry – one of the highest among all industry sectors.
The industry leaders have tried to control attrition, but the steps have not resulted fruits. So, attrition is going to stay, and we need to find ways to reduce the impact of attrition. One way to reduce the impact of attrition to smoothen up the onboarding process which can help to speed up new employee become proficient quickly and the loss of productive hours and business performance is reduced to minimum.
Let us look at two important issues that need attention
Faster Onboarding
Huge customer base using banking & finance services as per their individual requirements and to handle them in an effective and efficient manner, there is a need to have a set of skilled professionals. Thus, arises the requirement of faster onboarding of the skilled set of workforces which includes agents, distribution partners and the workforce working in their respective branches.
Upskilling & Training Workforce
The rate at which BFSI sector is transforming, there is really urge to upskill the workforce. Post COVID19 situation, banks and other financial institutions have looked to make most of their processes online. For example, the opening of the accounts and completing KYC formalities have gone digital. Employees need to be trained to deal with the online customers and help the customer have a seamless experience.
The Role of a Training & Learning Platform
The higher aim of learning is not only acquiring skills but changing behavior. By transferring the right knowledge and skills, it is possibly change the behavior of employees and stakeholders which is necessary for business continuity and competence. Let's talk about the role of a LMS in Banking in managing the training and learning process at the organization level.
The learning management system comes with several features that can create learning journeys more appropriate for an individual. The LXP variant of LMS brings AI driven suggestion engine, place for learners to find skills-based learning. The Learning Performance Platform variant integrates with your business processes and tools to get data on your business goals and performs skill gap analysis. Combined the features of these learning management systems provides the right environment for the employee to remain engaged, upskill and perform as per the intended KPIs.
Once new workforce has been hired, comes the Hypercare phase which starts right at the onboarding phase. Hypercare basically means an elevated level of support for the new hires to ensure the seamless adoption of a new system.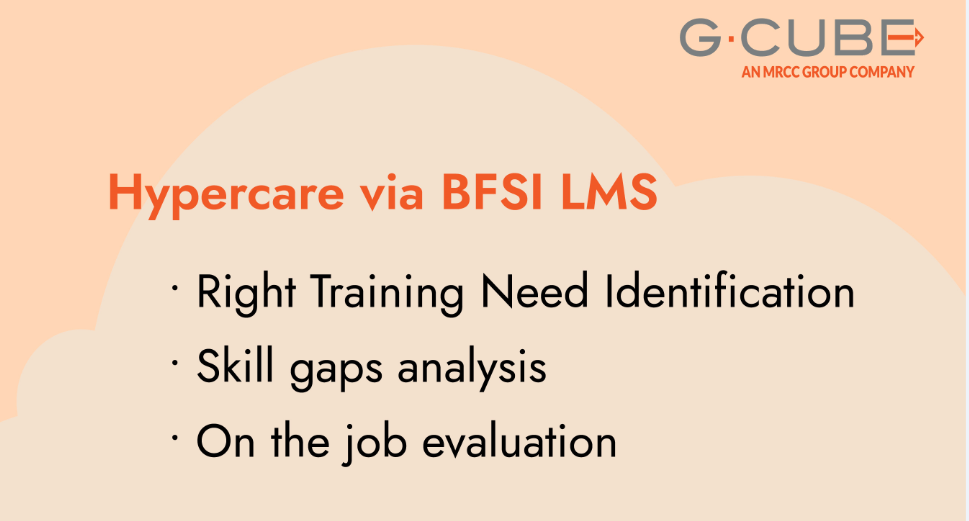 Commenting on the need of Hypercare through a BFSI LMS, Bharat Jain, AVP – Learning Technology, G-Cube shared "Post onboarding, hypercare is essential to ensure learners stay focused with regular training interventions as well as daily sales huddles. LMS brings various ways of training need identifications and automation to conduct daily huddles."
Therefore, Hypercare phase helps in developing culture of continuous learning where the employee gets the necessary support and guidance to perform well, feel confident and grow personally while adding value to the organization.
If you want to see how it works, try demo of a Learning Management System which is built in consultation with BFSI industry experts.