If you are privy to the learning domain then you already know that the Learning Experience Platform (LXP) market is growing fast owing to the need of employee centric, personalized trainings. Market opinion is that the LXP is looking to replace the $4 Billion+ LMS Market.
Analysts say that the Learning Management System is a top-down model whereas LXP makes effective use of Artificial Intelligence and machine learning to bring a bottom-up approach to learning. With its learner-centric model, the platform seamlessly integrates with existing tools, making the shift from an LMS quite easy. It is a flexible and scalable system that makes learning experience personalized and unique. The learner can now control the trajectory that aligns with their goals.
According to Facts and Factors Market Research, the global learning experience platform (LXP) market was about USD 508.5 Million in 2020, with sales value projected to hit around USD 2186.4 Million by the end of 2026 and expected to register an excellent 25.3% CAGR during 2021 to 2026.
How did the need of a Learning Experience Platform emerge?
LMS was never designed to be learner controlled. It was developed as "management" system for learning, focused on business rules, compliance, and catalog management for courses.
The LMS fundamentally used processes like Course administration, Program Management, Business Rules, Assessment, Compliance rules, Management Approvals, Reporting and Analytics etc.
On the contrary LXP uses processes like Content Recommendations, Content Paths, Skills Mapping, Self-Published Content and Usage Analytics.
The LXP is an intelligent content delivery system which brings all learning material in one place, making it easy for individuals to choose the right courses – via search, personalization, and social sharing. Together, user experience, ownership, and discoverability, increase learner engagement, and business agility.
New Generation LXP v/s Traditional LMS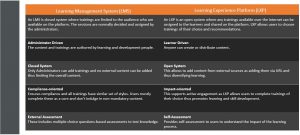 Having discussed the differences between the LMS and LXP, it is important to point out that whether you should choose an LXP or an LMS is dependent on how you want to control the learning environment. To put it simply, in an academic setting, LMS is your curriculum manager while LXP is the library.
G-Cube LXP is a new-age platform, designed to deliver intuitive learning experience for all. The experience-driven platform delivers trainings with adaptive learning paths that tailor content experience for individual users & encourages collaborative learning and mentoring.