Multi-media learning has been accepted to create better retention for a while now and L&D has seen the uptake of audio-visual learning for decades. However, the pandemic fast-forwarded our worlds and things changed rapidly.  According to Think with Google, 58% learners are using digital video to learn new skills in the post-pandemic world.


Given the blue-collared nature of work in the auto industry's manufacturing units and service centers, watching and learning is an absolute necessity and thus the value in using video as a medium is clear. When Volvo Eicher approached GCube for a learning solution that will work for their dispersed workforce with variable educational background, we immediately identified the need for video-based learning. However, given the volume of content needed and variety of learners we were catering to there were two major challenges:  


High costs of video production with proper content localization.
Time taken to create the same.

Thus, ITube was built. ITube is a video sharing platform integrated in the GCube LMS for Volvo Eicher which is a channel-based video platform built exclusively for the client's workforce much like the more commonly used counterpart, Youtube. The platform curates user generated content which are naturally localized, low cost and also come from in-house Subject Matter Experts.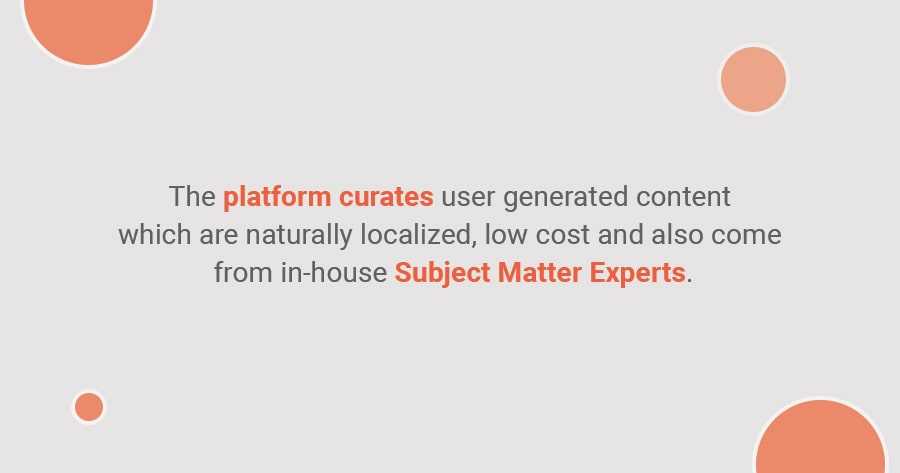 How did ITube solve the above stated challenges?


Leveraging localized and user generated video content: Itube resolves the time and cost issues by allowing their workers to create videos. Effectively deploying the user generated video content model for sharing knowledge. This not only brings down the cost but also crunches the hefty process of content generation from 15 – 20 days to just a 5-minute exercise. Suppose there is a need for short format videos on various parts of trucks. That will be a lot of videos with a very high production cost and also will need experts. But here, a senior worker can create a video on their respective work area and upload it for other juniors to learn from. The same can be done for topics related to features, offers, objection handling, addition or removal of parts, upgrades, after sales support and many other areas which become beneficial for the entire force.


Quality check through content moderation: Though Itube grants the content creation rights to all users, it gives singular authority to a moderator to ensure quality control measures remain in place. The moderator curates the user generated video content and after passing the quality check process they are uploaded to the video platform.


Concrete strength to the internal stakeholders for training:  Itube helps the internal leaders to increase their contribution to quality of training. Plus, it comes with a string of benefits like organizing contests for the HR teams from a content development standpoint. This adds strength to best practice sharing within the company.


Itube also comes with a live-broadcast-to-active-audience feature which increases engagement and retention.


How ITube created better learning strategy through videos?
With users generating video content, the first positive impact was on the number of knowledge videos spanning across a variety of categories, that were created every month. There are more than 350 videos on the platform with almost next to nothing development cost.
The basic fact that these videos were created by friends, colleagues, peers or seniors immediately raised the number of views, average duration of video consumption, and engagement levels of the knowledge content. As on 1st May 2021, the total users on the platform are close to 11,500.
Localization of video production provided a distinctive demographical edge as content was created from different regions, using different languages, and keeping in mind the preference, culture and sensibilities of the audience in that area.
This further allowed content distribution and penetration to the furthest corners of where Volvo Eicher ran operations.
By using the metrics from ITube rewards could be given to the best video content creators, providing gratification for their efforts and motivating others to get involved.


Itube is a revolutionary video training content platform that was specifically designed keeping in mind the unique characteristics of the automotive Industry. It has already delivered on its promise to Volvo Eicher with the total number of users of the platform going up to 7300.


With 100+ industry awards, and 45 new clients onboarded in the last financial year, we at GCube would love to share more about everything Itube can do for your company. Do write to us at in**@gc**********.net.