Hiring an electrician to do a plumber's job, could lead to someone or something getting zapped. Similarly using a corporate learning management system (LMS) to deliver training to the personnel at your auto dealerships can bring about dissatisfactory results.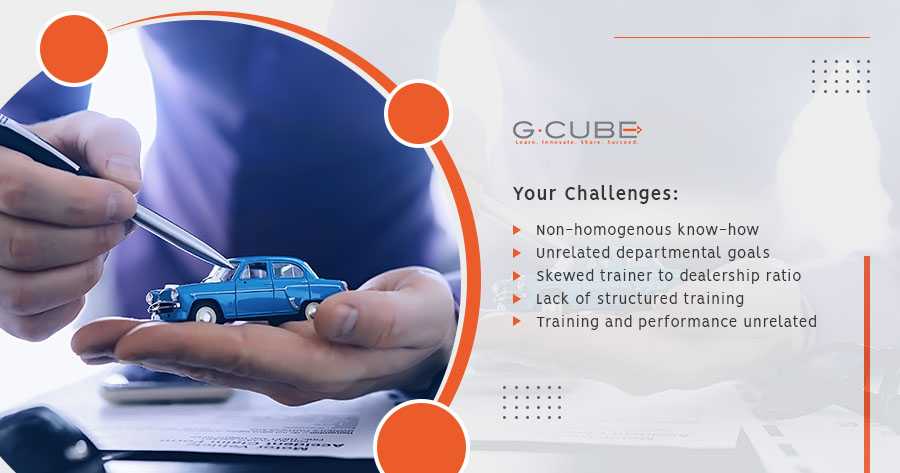 To understand the learning needs at an automotive dealership, we looked at the variables that make our auto industry clients' dealerships unique.


Diverse and non-homogenous skills and education of the work force
Unrelated departmental goals at first glance
Skewed trainer to dealership ratio
Lack of structured training before shop floor exposure
Unavailability of logical linking of training and performance
Our study suggests that for automotive dealerships the choice of LMS needs to be industry specific in order to overcome these issues. The following key features are what sets the Auto specific LMS apart from the rest of the lot. Read on.


On the job training and evaluation
At most dealerships, a new hire goes from completing their joining formalities to the shop floor directly. Under these circumstances where there is no formal training, it is important to have an LMS which has inbuilt forms, checklists, and tools. This helps mentors or seniors to keep track of everything they need to share with a trainee, and to evaluate a trainee's performance while on-the-job.


Predictive analysis of individual's performance to annual sales trends
Almost every role, whether customer facing or not, has an impact on the brand and reputation of a dealership, which ultimately impacts the annual sales trends. Therefore, an LMS which connects trainings attended to performance in their job roles, and then extrapolates that to find trends impacting sales, gives the leadership a way to predict training needs.


Simple user interface for diverse workforce
There cannot be different learning management systems for different departments at a dealership. Therefore, the LMS of choice must have an interface that is easy to use by an undergraduate mechanic with 20 years of on-job experience with automobile engines. With smartphones and tablets, it has become extremely easy to get a knowledge device into the hands of the employees, but the delivery of knowledge must be easy to handle and understand.


Sales and service enablement tools
Customers want great service and at a price point that makes sense to them. Whether the customer is purchasing a new vehicle, exchanging an older model, or getting one serviced, the employees talking to the customers should have knowledge, expertise, and customer service skills. Some things can be imbibed through training, but some things like market prices, loan rates, parts availability, etc. needs a ready interface that provides this information to the employee. An LMS that gives the flexibility to set up chat-bots, comparison charts, and calculators to enable point-of-sale assist is a blessing.


Integration with management systems
Integration with the CRM or dealership management system allows the LMS to fetch performance data and link it to the trainings attended or available. This also creates a visual chart or dashboard to be available to view and manage the extended workforce.


Optimum training resource utilization
When the ratio of trainer and dealerships is not optimal, the trainer has to travel extensively. Having an LMS that can track trainer calendars for availability and scheduling, and other resources such as room availability really helps. The LMS should also have an OTP feature for when the trainer starts a training. It should be able to capture attendance via an app and should also be able to deliver proctored assessments. If the LMS can provide all these insights, then it becomes easy for leadership to track the cost-benefit ratio of this method of training delivery.


In an industry that is in a constant state of flux, being able to empower and enable all the personnel at a dealership to put their best foot forward is essential. The right learning management system can help provide stability to employees and prepare them for handling the changes the future may bring.


We at GCube, have 20 years of experience and 80+ industry awards in learning technologies; and would love to hear your thoughts, queries, and suggestions. Please do write to us.