The current situation has forced organizations to quickly adapt their onboarding process for the remote environment. We have been fortunate to work with some of the best enterprises internationally to develop solutions that will help them tide over this period and emerge stronger. We're putting together a quick reference checklist below that should help with one of the most frequently asked for solution – Remote Onboarding.
We have tried to represent the complete onboarding process like a matrix of Phases and Process. Phases have been broken into – Pre-boarding, Onboarding, and Follow-up. Similarly, we have identified the overall process into 3 categories – Personalize, Practicalize, and Socialize.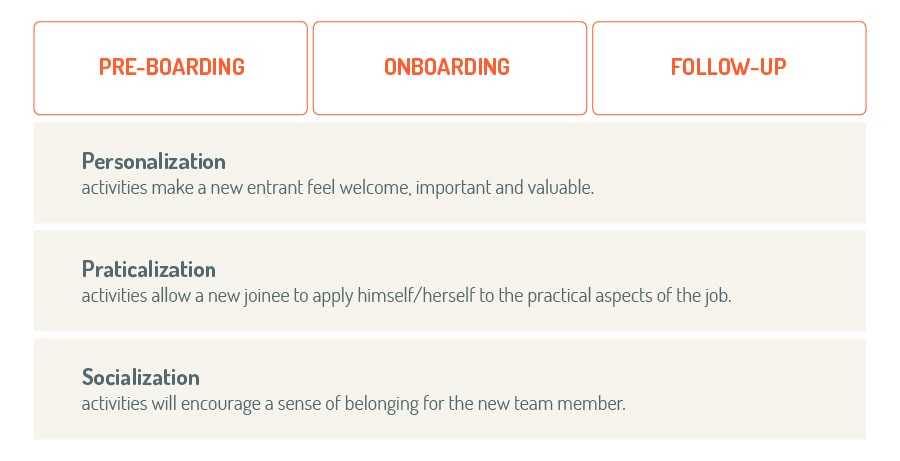 We've also created a downloadable version of this, as a ready reckoner, for you to print and keep.
PRE-BOARDING: Just before the new entrant officially joins is a good time to get paperwork and logistics out of the way and familiarize them with the company and their roles.
Personalize
1. Deliver Hardware (laptops, desktops)
2. Send passwords
3. Send regular emails to check-in.
Practicalize
1. Create Welcome Docket with New Hire Forms to be filled, required digital signatures and other important documentation required for joining
2. Arrange a call with IT to do trial run of all hardware, software, access codes etc,
3. Send invites to future meetings
4. Send company familiarization collateral
5. Plan all onboarding formalities and collaborative activities
6. Ensure buddy, team members, managers, mentors are aware of their roles in onboarding
7. Create a 30/60/90 days follow-up plan that includes feedback sessions, personalized trainings, tasks, socializing activities etc.
Socialize
1. Familiarize the new joinee with the team, company culture and working style.
2. Do a follow up call with the new member to ensure all work-related support has been provided (hardware, passwords etc) and to answer any initial queries.
ONBOARDING: The official joining is busy with formalities, actions, orientation and familiarization. In a remote set-up, a tech-enabled interface will replace the friendly personal exchange. To make the new entrant comfortable, plan to start the day with warm welcome messages and include activities with the team members that can be done online.
Personalization
1. Welcome messages from team members & manager (video/emails)
2. Conduct Company presentation that shows the new joinee's placement within the company ("You are here")
3. Assign a Buddy to help the joinee navigate processes and address queries to. Ideally this is will be a peer within the team
4. Assign a Mentor to match their style and personality

Practicalize
1. Share, review and complete Welcome Docket formalities
2. Conduct collaborative activities
3. Orientation
4. Share KRAs
5. Conduct training software orientation
6. Assign all compliance and mandatory trainings. Clearly communicate timelines to complete these and any assessment criteria.
7. Conduct a team meeting to introduce colleagues
8. Assign a few introductory tasks, ideally in collaboration with team members, to familiarize them with their roles and responsibilities.
9. Do a feedback session at the end of onboarding to address any queries.

Socialize
1. Assign and introduce Buddy
2. Organize a virtual team lunch/ coffee
3. Explain unwritten company rules such as celebrations, socializing opportunities, etc to help them become insiders
4. Communicate manager expectations and working style
FOLLOW-UP: A 30/60/90 days plan will help keep the new team member focused on his/her progress and keep them motivated. Planned feedback sessions will help address any hurdles, review required trainings and course-correct where needed.
Personalize
1. Plan and initiate a professional and personal development plan replete with personalized trainings, mentorship and feedback sessions.
2. Categorize trainings as per KPIs, identified skill gaps post-assessments, learner interests
Practicalize
1. Initiate periodic assessments
2. Plan for Microlearning training modules to deliver impactful training
3. Establish Mentorship sessions
3. Plan for constructive feedback sessions
Socialize
1. Connect with colleagues, managers, mentors and Buddy to ensure new joinee is performing well
2. Initiate an informal catch-up session to ensure the new recruit is comfortable with the team, the culture and the work
Setting up a successful remote work environment requires a robust interface that's easy to use, integrates all the necessary collaborative and productivity tools and fosters a culture of learning and growth. Establishing open channels of communication, continuous assessments and feedback and aligning requisite trainings for higher productivity and achievements are essential to enable new joinees to understand their roles, achieve high productivity and be motivated.
While this is our checklist for the onboarding process, we'd welcome your suggested additions to this. Or, if you have any queries on how to structure a remote onboarding process for your organization, you can write to us and we'll be happy to take you through it.