Workforce Development through Learning Performance Solutions
The world's workforce is facing a technology skills crisis. A lack of skilled employees can hurt business initiatives. As the IT industry evolves, with the adoption of digital-first and newer emerging technologies, organizations across the globe are facing significant problems finding a qualified workforce to fill these opening roles.
When CEOs were asked about the top three challenges to their workforce goals, 70% of CEOs anticipated skill shortage as a major concern in a Deloitte CEO Survey.
A report by Korn Ferry suggests that more than 85 million jobs could go unfilled by 2030 because there aren't enough skilled people to take them.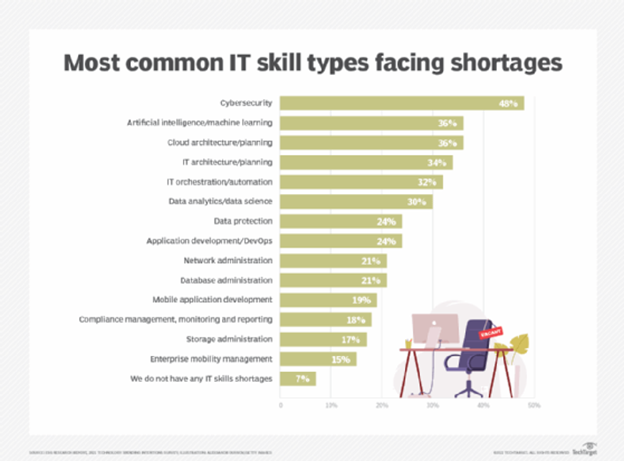 Source: TechTarget
To create the next generation of software developers, cybersecurity specialists, data scientists, and other IT professionals, organizations have now started to invest in educating, training, and upskilling their workforce with customized learning and development strategies. The good news for leaders looking to upskill their teams is that most technologists are also eager for learning and development (L&D). For a majority of organizations, the best way to weather the current tech skills shortage is to invest in developing your existing workforce.
Creating a culture of learning within your organization is key in today's time
Focus on building next-gen future-proof teams
Software developer roles or finding expert skills in areas like cybersecurity, data research scientists, cloud experts, machine learning, etc. skill gap is a growing challenge. Technology is advancing at a faster pace than anyone can keep up with. Any tech skills relevant about two years ago are obsolete now, and newer emerging technology has taken over. As a result, organizations are valuing the act in time to build a resilient workforce of their own.
As the savviest organizations are taking the responsibility of training their employees for the future, they have started to focus on fresh talents. They are hiring freshers straight after graduating and providing them huge opportunities for skill devolvement.
Focus on reskilling initiatives
Include training reinforcement
Incorporate microlearning
Address the 'how to apply (on the job)' learning
Nurturing your talent to address the skill gap:
Mega organizations are looking to hire tech talent, but with ongoing digital disruption and rising skill gaps, they are facing a challenge. According to a Salesforce research Global Digital Skills Index 2022, 60% of employees said they are not prepared with the workplace digital skills needed now.
IT excellence can be achieved with continuous learning culture and constant nurturing of the talent community. From day one of a new hire, till the journey to maturity of the employee, L&D acts as a ladder.
For new hires:
A seamless onboarding solution that can support new hires to acquire, develop, excel, and faster contribute to organizational growth.
Pre-boarding solution: reduce the anxiety, build excitement, and share information
Onboarding to settle-in: to transmit clear information, expectation setting, and carry out KPI and KRA-focused learning performance solutions
Post onboarding: to reinforce commitment, enable job performance and strengthen further culture fitment
For existing employees:
To unlock new potential with meaningful, memorable, and engaging learning solutions, be it a course, content, or an entire training program.
Continuous learning opportunities: through interactive learning experience where employees can access learning for their unique needs.
Social learning opportunities: where a learner can ask questions, take help for job-aids, learn besides learning courses, have access to coaching and mentoring if required, etc.
Learning on demand: by leveraging learning strategies such as microlearning for anywhere, anytime learning support
Build mastery with a challenge: to get good at a skill, keep a knowledge check and become more confident applier, with learning solutions such as game-based learning.
As quoted in a McKinsey article: "Learning itself is a skill, and developing it is a critical driver of long-term career success."
Implementing meaningful learning solutions:
When learning initiatives are made more profound and relevant it benefits the organization with a more prepared and engaged workforce. Customized learning options help the workforce adopt agility, critical thinking, and analytical abilities while fulfilling their rational learning towards capacity building.
Upskilling the existing workforce with strategic skill requirements:
A sustainable and possibly cost-effective solution is to continuously skill and re-skilling the workforce. Approaching talent development with a scientific diagnosis of the prominent skills required to work for their organization's health, perfects the skill development plan. Not only does this provide for skill shortage, but also keeps retention at bay with a more engaged workforce.
Expanding employee engagement:
During this time, employees have clear and distinct expectations from their job. They feel motivated when their purpose is aligned with that of the organization. Training opportunities such as cross-functional training not only expand employee engagement and mobility but prepares the organizations for future talent requirements.
Introducing agile learning
Technology's present and future role in supporting businesses to sustain, innovate, and excel is undeniable. Offering employees to work on multiple projects and moving away from the traditional frameworks can cover for long-term talent crunch.
How G-Cube help you close the tech talent gap?
We at G-Cube are extensively engaged in conceptualizing, navigating, and making an impact in talent transformation through the design and development of talent framework solutions. These talent transformation solutions reduce the lag time by introducing the right learning solutions and expanding and leveraging learning and development options. Join us to build an inclusive future of work.
Join us to close the skill gap and prepare for success. Let us know if you would like to know how engaging and retentive learning solutions could motivate core capability development for tech talent.